The "Austin" singer teased his upcoming single, calling it an anthem for hardworking country people. The latest radio single will be dropping this Friday on October 1 and will be featured on a deluxe version of Blake Shelton's latest album out this December.
Blake Shelton Announces More New Music
"NEW MUSIC. #BodyLanguage (Deluxe) will be available December 3rd and features four new tracks including #ComeBackAsACountryBoy – out this Friday!" Blake Shelton shared the news with his fans on social media.
Hardy, Josh Thompson and Jordan Schmidt penned the forthcoming song "Come Back As A Country Boy". It will be Shelton's latest single since "Minimum Wage" peaked inside the Top 10 on country airplay charts earlier this year.
[embedpost postid="2509″]
The song is described as one that "extolls the virtues of living the country lifestyle", singing, "If his neck don't come out red / Then Lord just keep him dead."
The album, whose deluxe will feature several new songs, was dropped in May of this year, including those written by Hardy and Thompson.
Shelton described the song's message as taking pride in being country. "We have so much pride in who we are and what we do that, if we ever died and got the chance to live life over again, we probably wouldn't do it if we couldn't be country," he said.
The song will probably depart from the polished country sound of his last three singles, "Nobody But You", "Happy Anywhere", and "Minimum Wage".
Blake Shelton on Collaborating with Wife Gwen Stefani
Shelton recorded the hit single "Happy Anywhere" with his wife Gwen Stefani. The track, released in July 2020, topped Billboard's Country Airplay chart, making it Stefani's second chart-topping country song. The music video was shot in Oklahoma, where the couple would later tie the knot.
Stefani has expressed her gratitude a couple of times to be able to do country music with her husband.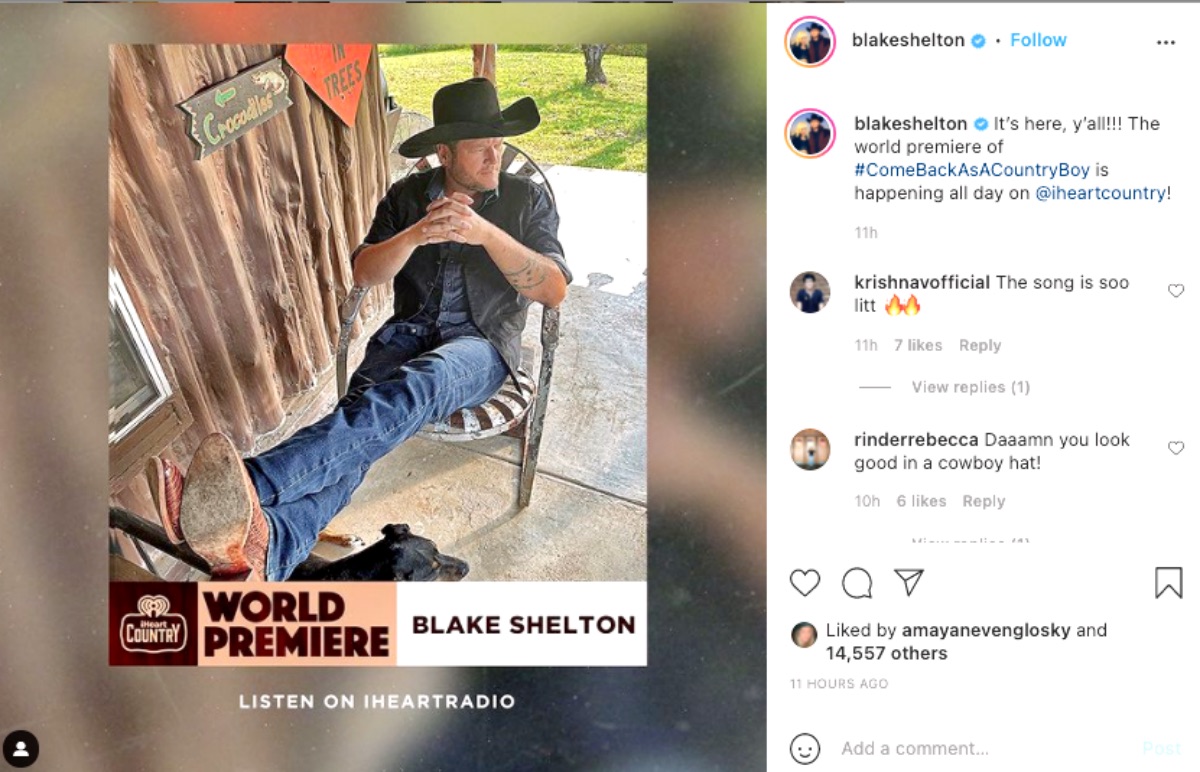 "Blake Shelton, thank you for letting me ride your coattails all this time," Stefani said. "I truly am a fish out of water. I'm from Orange County, but I'm wearing cowboy boots for this. I am such a fan of songwriting and writers. When Blake asked me to be on 'Happy Anywhere,' I cried because I was so excited about it. The song is so 'our song' and we're so in love and it really is the perfect way to describe us. When I heard 'Nobody But You' I was so blown away by the song I was jealous that I wasn't on it."
Shelton playfully replied: "[We] were laughing earlier that we now know we have to put Gwen on every song I release from now on if we want it to work. "Austin" (Shelton's debut song which reached No. 1) was released 20 years ago this year. "To think that 20 years later I would still be standing here [celebrating hit songs] is my dream come true, and it's because of the songwriters in this town."
Be sure to catch up on everything happening with Blake Shelton right now. Come back here often for all Blake Shelton spoilers, news, and updates.