In a new cover story for W Magazine, country legend Dolly Parton chatted about negotiating her way around a publishing deal involving one of the most popular songs in the world. The story also uncannily involves two of the biggest musicians who are now sadly departed from the world.
Dolly Parton Shares How She Manages Her Music Business: "They're Like My Children"
Before Whitney Houston recorded "I Will Always Love You", which quickly became her most popular song, Elvis Presley was in the running to record the song.
Dolly Parton appeared in W Magazine's latest cover and shared the story of how one of her songs almost ended up in the hands of the King of Rock & Roll. She also discussed how the deal didn't pan out right and why it made her "cry all night."
The "Jolene" singer, 75, revealed that she approached Presley's manager at the time in the hopes of getting the widely famous rock & roll performer to record the ballad. Presley's manager insisted on getting half of Parton's publishing rights for "I Will Always Love You" in exchange for the late singer to record the song.
"I said, 'I'm sorry, but I can't give you the publishing.' I wanted to hear Elvis sing it, and it broke my heart — I cried all night," Parton told the outlet. "But I had to keep that copyright in my pocket. You have to take care of your business!"
"Everybody's going to use you if they can," she added. "These are my songs — they're like my children. And I expect them to support me when I'm old!"
Even though the iconic song didn't end up with Presley, it still played a major part in his life.
"Priscilla, Elvis's wife, told me that when she and Elvis divorced, Elvis sang my song to her," she said. "That touched me so deeply. And they also played the song at Whitney Houston's funeral. After that, I thought, I bet they'll play the same song when I go."
When it comes to handling her business, Parton transforms into a serious negotiator. You see, she doesn't only have her unique voice and glamorous looks to back her very successful music career, she's got her smart choices to thank for it too.
"You have to keep going, but you have to be smart about your time and your choices," Parton said candidly. "I can enjoy all this fun stuff, but I always say, when it comes to business, I look like a woman, but I think like a man. Over time, that has helped me a lot: I will tell you where to put it if I don't like where you got it."
Parton on Who She Wants to Portray Her in a Biopic About Her Life
Parton is looking forward to seeing a biopic about her life, and she's already got a few choices for the people she feels are good enough to step into her famous shoes, that is, not exempting herself.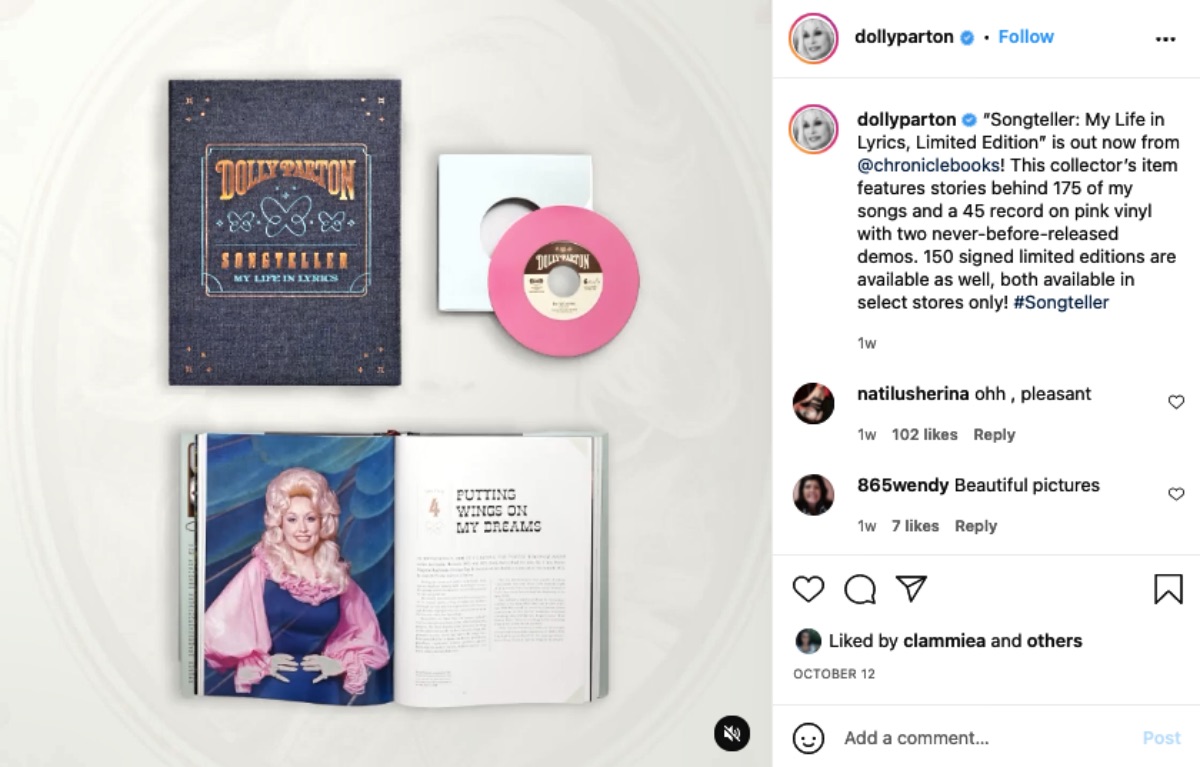 "Well, there's different phases," she said. "We'd probably have to cast a little Dolly, a medium Dolly, and an older Dolly. I had two or three different people in mind, but they're almost as old as I am now!" Parton said. "I could play myself. And I might! I'm whatever age I have to be. I always say, I'm as old as yesterday, but I'm as new as tomorrow."
In the interview, Dolly also recalled the grand unforgettable feeling she experienced when she heard her song "Puppy Love" on the radio for the first time.
"When I heard 'Puppy Love' on the radio for the first time, I about killed myself. I was sitting on the counter at my aunt's house, and suddenly I heard my voice," Parton said. "I slid on the floor, 'cause she was mopping. I was trying to get to the radio."
"Even to this day, I've never had anything that was more exciting than the first time I heard myself on the radio," she added.
New music from Dolly Parton is set to drop by March 2022 in support of the novel Run, Rose, Run. The coming-of-age story is Parton's debut novel, written in collaboration with bestselling author James Patterson.
Be sure to catch up on everything happening with Dolly Parton right now. Come back here often for all Dolly Parton spoilers, news, and updates.