Miranda Lambert deserves a special country music award. We're thinking perhaps a "Saved the Day" tiara, y'all?
Get the inside story on how Miranda was scheduled for two performances at the Academy of Country Music (ACM) Award ceremony… and ended up singing not once, not twice, but THREE times by saving Chris Stapleton's performance.
Miranda Lambert Saves The Day (and Performance) for Chris Stapleton at ACM Awards
Even a country music superstar might be forgiven for looking tired and anxious or singing just slightly off-key when, at the last minute, she learns she has to sing for a third time at one of the entertainment world's most prestigious ceremonies!
But Miranda Lambert never let down her fans for any of her performances, including the one she wasn't even scheduled to sing. That third unplanned occasion resulted from Chris Stapleton's need for a singing partner.
Chris was originally slated to sing with his wife Morgane Stapleton. But when Stapleton's spouse suddenly had to bow out mere minutes before the live show began, Lambert proved she's the ultimate country music singer by stepping in at the last minute to sing with Chris. (Don't miss the video of their duet below!)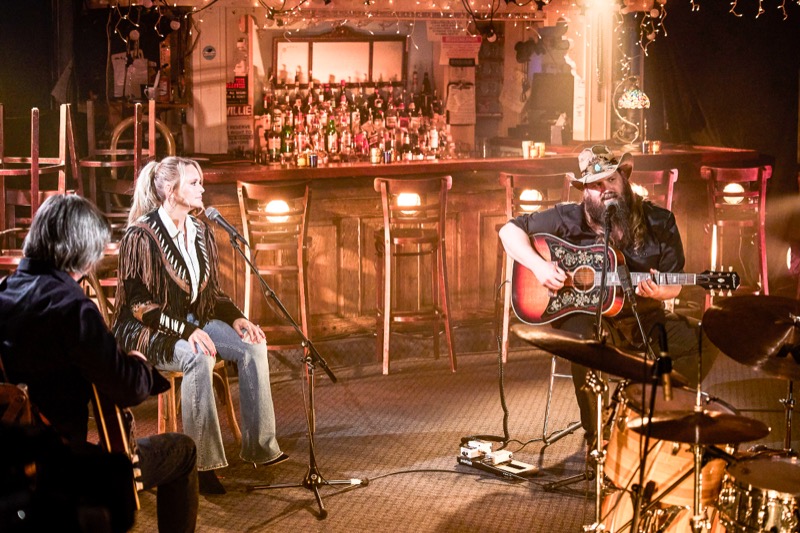 Why Couldn't Chris Stapleton's Wife Sing As Planned (and See the Video of Chris Singing With Miranda Lambert!)?
For those baffled by why Chris Stapleton's wife Morgane Stapleton would exit with so little notice, the 43-year-old country music singer defended his 38-year-old spouse. Chris explained that his wife could not sing their tune, "Maggie's Song," because of a "prior doula commitment."
That commitment resulted in Miranda Lambert replacing Morgane at the Bluebird (one of three venues in Nashville that hosted the live ACM award ceremony) to sing 'Maggie's Song' with Chris.
Later, Stapleton talked with the media including People magazine about what happened.
"My sister-in-law's in labor right now, so my wife was on baby watch — and for once, not her own baby! — but it's been an interesting night tonight so lots to celebrate," explained Chris about Moragne's doula obligations (a doula is a person trained to provide support through a health situation like childbirth).
That situation resulted in Miranda Lambert performing three times:
● Miranda opened the ACM Awards with Elle King to perform their duet "Drunk (And I Don't Want to Go Home)."
● Lambert then performed again with Jack Ingram and Jon Randall.
● And to support Chris Stapleton, Miranda stepped up to take on Morgane's role in "Maggie's Song," a tune about the Stapleton's dog, a rescued labrador – terrier mix.
"I told her she was a good dog / And I told her goodbye / Run, Maggie, run," urge the lyrics of the song "With the heart of a rebel child / Run Maggie, run / Be just as free as you are wild."
The absence of his wife made it a challenging night for Chris. Stapleton had to survive the suspense of learning which, if any, awards he had won while also singing "Maggie's Song" with a different partner.
The song is "all true stuff," Chris has said of the tribute to his late dog. And he admitted that it was "hard to sing… I kept crying through a lot of it."
Watch Stapleton and Miranda Lambert sing in their video below!