Are Reba McEntire and Elisa Gayle Ritter the same person?  Country Music news teases that there is a mystery afoot in the country music world and it stars one of the genre's biggest names.
The question are Elisa Gayle Ritter and Reba McEntire the same person has been trending for years and we have the astounding answer to this juicy question right here. Keep reading to find out just what is going on here!
Why Do People Think That Elisa Gayle Ritter and Reba McEntire are the Same Person?
Who is Elisa Gayle Ritter? She is the lesser known of the two women in this equation and when she was a teen she married her former husband, Narvel Blackstock. The marriage lasted just a few short years.
Elisa was married to the American steel guitar player, Narvel Blackstock, in 1973. When Elisa and Narvel married they were young, each just 17. Perhaps they were too young as they went their separate ways and officially separated in 1988.
 Who is Narvel Blackstock's First Wife?
Interestingly enough, Elisa Gayle didn't get married again and she spent her life single and devoted to raising her kids with Narvel. Narvel did not take the same path. After his divorce he began dating American country music singer Reba McEntire. A scant two years later they married in 1989. Alas, this marriage was also not meant to last.
Elisa Gayle Ritter is mom to three grown children: Chassidy, Shawna, and Brandon. Her oldest daughter Shawna Rene was born in 1973 and youngest daughter, Chassidy Celeste, born in 1978. Brandon was born in 1976, and he married American singer Kelly Clarkson in 2013 in Walland, Tennessee.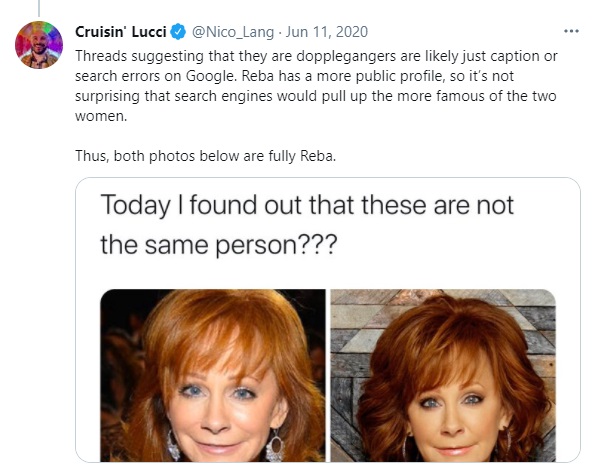 Are Elisa Gayle Ritter and Reba McEntire the Same Person?
Brandon became Kelly Clarkson's manager but at the moment they are embroiled in a nasty divorce and their business dealings are also under scrutiny.
The marriage of Reba and Narvel is also over but their marriage lasted more than a quarter of a century before they legally divorced in 2015. By now you may have guessed the answer to the question: Are Elisa Gayle Ritter and Reba McEntire the same person?
Elisa Gayle Ritter and Reba McEntire are most certainly not the same person but they do have something in common.  Both women were once married to Narvel Blackstock (at different times!).
Be sure to catch up on everything happening with country music. Come back here often for country music news and Reba McEntire updates.