One of the most recognizable and prolific country music artists in history has penned a new book, Willie Nelson's Letter to America, and it is coming out this June.
Willie Nelson's Letter to America
During Lockdown, anyone would expect the 87-year-old to enjoy his time off from constantly touring, but he's decided to surprise everyone by being more useful than many people gave him credit for. He wrote a new book. This would become the tenth book in the country music artist's arsenal.
The man has spent decades playing more than 150 shows a year, releasing numerous albums, starring in many movies, and when the pandemic decided to cause all those unwanted lockdowns, he turned his attention to writing a new book.
Still, it'll be a dreadful thing to think that writing a book is all the country music artist has spent his months in lockdown doing, because that'll be very wrong. In addition to the book, the country legend has released two albums, oversees a radio channel and two cannabis companies, and he's not ready to run out of breath yet. And you know what? He calls it all "doing nothing." I'm sorry, but for the sake of protecting my self esteem, I think I'm going to go out and guess that everything's nothing for him when he's not touring. That sounds about right, right?
According to him, during the early stages of the pandemic he was quarantined at his 700-acre Texas Hill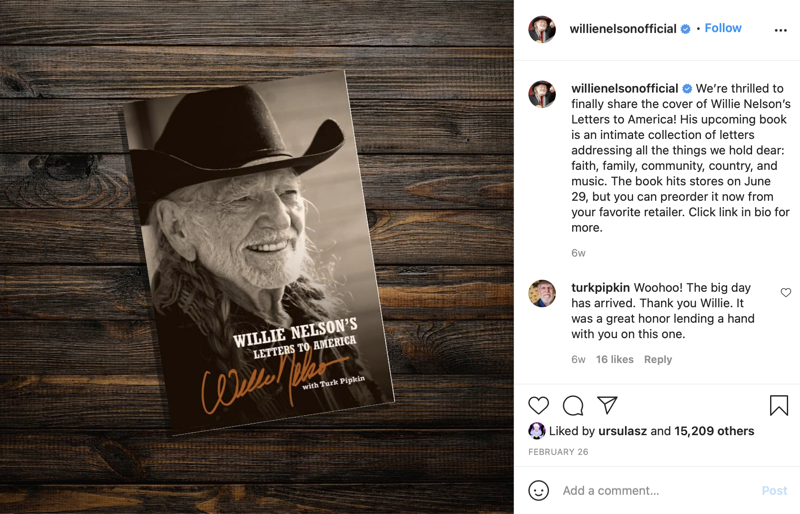 Country ranch outside of Austin.
"It could've been worse", he said with a smile. "Quarantined there on the top of the hill with all my ponies, that ain't bad. Had a good view and nice folks around me."
Reportedly, his wife Annie and sons Lucas and Micah joined him during the quarantine. It wasn't long after the lockdown that he teamed up with another author, Turk Pipkin, to work on a book that's boldly named Willie Nelson's Letter to America.
It's said to be a series of his reflections on his past, present, and future. As for his future, the country singer/songwriter will turn 88 on April 29, when asked how he will choose to celebrate it, he replied: ""Hopefully I can do everything on that day as I'm doing today, which is practically nothing."
Loving and Regretting Frank Sinatra
Willie Nelson spent his time during lockdown recording new songs for a second Frank Sinatra tribute. He loves Frank Sinatra and he doesn't want anyone to argue about it.
"Frank Sinatra is my favorite singer, period," the singer said.
Nelson also admitted that he's got a biggest regret, and it's got something to do with Frank Sinatra, but mostly it's about a party he dearly wishes he'd attended.
It all started with an invitation, as many people have come to realize is probably how most biggest regrets start, extended to him by none other than Frank Sinatra.
"I couldn't do it because I had to get back on the bus and go to LA," he said. "But that's one of my biggest regrets is that I didn't get a chance to hang out with Frank."
I'm no Willie Nelson, but I'd pick hanging out with Frank Sinatra over L.A. any day.
Getting Back to Touring
As for getting back to touring, which is something he previously said he was painfully denied due to the lockdown, he has no immediate plans for touring and is not sure about any future ones either.
"I haven't heard anything before August, and I want to make sure that when I get back out there it's going to be safe because I don't want to take a chance on somebody getting sick in the audience or me getting sick," he said.
Willie Nelson got vaccinated against the coronavirus in February.
Be sure to catch up on everything happening with Willie Nelson. Come back here often for Willie Nelson news and updates.